If you have a MP4 video uploaded to your Dropbox account and wish to open it in lightbox this documentation will help you get started.
1) Login to your Dropbox account
2) Select the video you want to pop up in lightbox (upload a video if you haven't done so yet) and click Share.

3) Copy the URL (Link to file) and paste it into a text file for later use. Now close the window.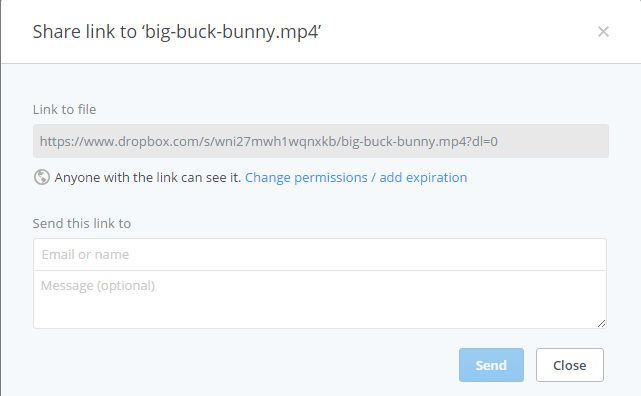 Please make sure to keep the default file permission – Anyone with the link can see it.
4) Link to file is actually not the URL of the video. It's a link to the page with the video in it. Dropbox allows you to download the video from this page.
In order to get the actual location of the video we will need to tweak the URL a little bit.
First, you need to replace www.dropbox.com with dl.dropboxusercontent.com. Now remove anything after the video extension .mp4 (In this case it's ?dl=0)
5) Now copy the video URL and paste it into our mp4 video shortcode.

6) When you click the text/image link on the front end your dropbox video will open in lightbox.